OC Pharmacy NowRx opens with free same-day delivery. The company that re-engineered how prescriptions are filled and delivered launches a 4,500 sq. ft. hyper efficient, robotics-enabled facility in Irvine to ensure that OC consumers never have to wait in line for prescriptions again; will donate to American Heart Association for every prescription delivered in February – American Heart Month
ORANGE COUNTY, CALIF. (PRWEB) JANUARY 23, 2020
NowRx, the company that re-engineered the way prescriptions are filled and delivered, officially launched in Orange County today with the grand opening of its state-of-the-art, 4,500 square foot, hyper-efficient, robotics-driven facility in Irvine that fills prescriptions in a fraction of the time of a traditional pharmacy. NowRx uses an eco-friendly fleet of delivery cars to provide free, same-day, door-to-door delivery from the Irvine facility.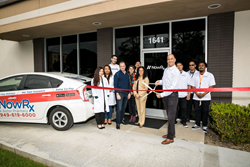 "NowRx is bringing the future of pharmacy to Orange County – which means a personal, local, highly-efficient service that does not depend on mail delivery or endless waiting in pharmacy lines," said NowRx Founder and CEO, Cary Breese, as he cut the ribbon, officially opening the facility.
"I was waiting in line at a pharmacy here in OC when I realized it was time for a better prescription process. After successfully launching NowRx in the Bay Area, I am thrilled to bring NowRx's benefits, and mission of wellness, literally to the doorsteps of my home county." Breese and much of the NowRx team are based in Orange County.
Since that launch in the Bay Area, NowRx has same-day delivered over one hundred thousand prescriptions and OTC medications door-to-door through its tech-enabled pharmacies in San Jose and Mountain View, saving consumers countless hours wasted waiting in lines at the pharmacy. With the launch of NowRx's OC pharmacy offering free, same-day delivery, residents now have a quicker, easier, more reliable way to access, and adhere to, their prescription medication, including NowRx's easy-to-use localized app, team of local pharmacists, and friendly, trained drivers.
As part of its commitment to improving wellness in Orange County, Breese also announced that NowRx will donate $5 to the American Heart Association for every prescription delivered in Orange County in February, which is American Heart Month. In addition, the company unveiled its Charity Partner Program in which the company is partnering with local doctors to give back to health-related charities based in Orange County including: Alzheimer's Association, Orange County Pediatric Cancer Research Foundation, and Breast Cancer Angels.
The new Irvine facility is equipped with QuickFill, NowRx's proprietary software automation system, including robotics, logistics, and AI that enables it to do the work of 10+ pharmacies, increasing prescription fill efficiency, significantly reducing verification errors and enabling same day fill. In addition, by providing consumers with a convenient, free and same-day way to receive their prescriptions, NowRx can help solve the challenge of prescription non-adherence, an often life and death issue that is responsible for adding over $290 billion in additional cost to the US healthcare system.(1)
Residents of Orange County are already benefiting from NowRx services. Scott Silverman of Laguna Beach is typical of many of NowRx's customers – too busy to get to the pharmacy, yet with a medical need that made getting his prescription filled in a timely fashion critical: "I am super busy, but needed a prescription filled. I kept putting it off until I heard about NowRx, contacted them and it was delivered to my house that same day. Service was fast and the driver was courteous. Thanks to NowRx, I'll never waste time in line at the pharmacy again. So happy to have them in the OC!"
Local doctors also appreciate the benefits of NowRx for their patients. Dr. Quon, of South Coast Optometry, said: "I couldn't be more impressed with NowRx. Working with their pharmacist Laemsing made everything simple for my staff. They conveniently delivered the prescription to my patient in about 2 hours and even applied a drug manufacturer coupon that I wasn't aware of. I highly recommend doctors try NowRx"
How NowRx works: NowRx works just like a regular local pharmacy, but without all the hassle; accepts all major insurance and has the same co-payments as a traditional pharmacy. Consumers simply ask their doctors to send new prescriptions directly to NowRx for same day delivery; and, for existing prescriptions, consumers can call or text NowRx pharmacy directly for same day delivery. Prescriptions are hand-delivered within 3-5 hours.
Unlike mail-based services that keep consumers waiting for their medications – and are not ideal for delivering medications requiring special care (refrigeration, narcotics, urgent, etc.) – NowRx's fleet of drivers, its mobile app and its pharmacy fulfillment center enable rapid, free, same-day, hand delivery of all medications. And, unlike mail-based services, NowRx's local licensed pharmacists are only a phone call or video chat away. NowRx drivers are NowRx employees with safe driver training, background checks and training in health care privacy laws.
"NowRx is disrupting the $400bn pharmacy industry to improve wellness and prescription adherence, and to leverage efficient pharma-tech to help take cost and waste out of our healthcare system," continued Breese.
"Orange County is fertile ground for our pharmacy revolution: OC, the 6th most populated county in the US, is known for its tech innovation, and fills over 2.5 million prescriptions each month. The time is now for NowRx to bring positive, tech-enabled change to pharmacy for OC residents. Whether they are busy moms or dads, at-home seniors or on-demand millennials, their time and health is precious, and NowRx aims to save, and improve, both."
Launched in 2016 in Mountain View, CA, NowRx is achieving record customer ratings and prescription fill numbers and has already started delivering prescriptions to customers in OC. NowRx has a 90% satisfaction rating on over 100,000 prescriptions for 20,000 customers – from more than 4,500 physicians. The Company is also setting fundraising records with its recently announced third crowd-funding round which had one of the fastest ramp-ups in SeedInvest's history.
This Company's profile and accompanying offering materials may contain forward-looking statements and information relating to, among other things, the Company, its business plan and strategy, and its industry. These statements reflect management's current views with respect to future events based on information currently available and are subject to risks and uncertainties that could cause the Company's actual results to differ materially. Investors are cautioned not to place undue reliance on these forward-looking statements as they are meant for illustrative purposes and they do not represent guarantees of future results, levels of activity, performance, or achievements, all of which cannot be made. The Company does not undertake any obligation to revise or update these forward-looking statements to reflect events or circumstances after such date or to reflect the occurrence of unanticipated events.
You can view the Original Press Release Here.
(1) https://www.mobihealthnews.com/3901/poor-medication-adherence-costs-290-billion-a-year
---
About NowRx NowRx is an on-demand pharmacy, founded with the goal of using software, artificial intelligence, robotics, and smart logistics to create the best retail pharmacy experience possible. Specializing in free same-day delivery of prescription and over the counter medications, NowRx hand-delivers medications right to your door in hours with its fleet of friendly HIPAA trained drivers. By removing the need to visit the pharmacy, NowRx's hopes to increase medication adherence and provide a more convenient pharmacy experience for millions of people. Learn more at https://www.nowrx.com/.